Prepare for Image (Execute)
Use the Prepare for Image task (under Advanced) to launch the Prepare for Image wizard that is available inside Agent Properties. This wizard prepares the selected Agents for use in a computer image.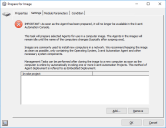 Configuration
The only configuration option is to select the projects that will run when the newly imaged VM is started. Use the Add and Remove buttons on the Settings tab to manage the project list.
This task also supports parameters and conditions.