Blocked Paths
Under the Blocked Paths tab, specific file paths can be configured as blocked. This means that any applications launched from these configured file paths is prevented by Workspace Control from running, regardless if the NTFS owner of the application matches the configured list of authorized owners.
Applications configured as Workspace Control managed applications are allowed to run even if they are launched from a location marked as a blocked path.
Configure Blocked Paths
To configure a file path as a blocked path, follow these steps:
Open the Workspace Control Console and navigate to Security > Authorized Owners.

Under the Blocked Paths tab, right-click and select New from the context-menu to create a new blocked path.

To modify a configured blocked path, double-click on it in the right-side pane or right-click on it and then select Edit from the context-menu.

In the Blocked Path window, configure the following settings:

Path — Configure the file path to be blocked.

Select the button. In the Browse for File or Folder window, select the path to block:

Enabled — Configure if the blocked path is enabled or not.

By default, the Enabled option is selected when creating a new blocked path.

(Optional) Administrative note — Enter an appropriate description.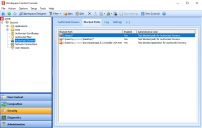 Delete Blocked Paths
To delete a blocked path, right-click on it and select Delete from the context-menu.
Multiple blocked paths can be selected and deleted at the same time.