Computer Control
The Computer Control tab of a Workspace Container lists the Workspace Control Agents that belong to that Container.
When defining the computers that are included in a Workspace Container, there are two options:
Only specifically appointed Agents are members.
This option enables you to create a hand-picked set of Agents. Use the Add and Remove buttons to change Agent membership.

All Agents in the Workspace Control site are members automatically.
This option removes the Agent-based aspect of the Workspace Container (since all Agents are always members of the Container). This enables you to use the Workspace Container as a set of Access Control principles. Check the box next to Include all Agents.

Agents added to the site after creating the Workspace Container automatically become members of the Container.
Agents can be members of multiple Workspace Containers.
When you do not include any Agents in a Container, Workspace Control prompts you to include all Agents: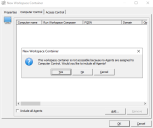 To change the default answer from Yes to No, configure DefaultAnswerIncludeAllAgents as a registry setting. For details, see DefaultAnswerIncludeAllAgents.