Application List tab
The Application List tab shows the same applications as listed on the Start Menu tab, but in a sortable list with columns showing additional information.
Multiple applications can be deleted at once or moved at once to another menu on this tab by selecting Delete or Move from the Menu at Action > Applications or from the context menu.

Use the Search field to search for the desired application(s).

The # applications at the bottom of the overview is dynamic and displays the number of currently visible applications.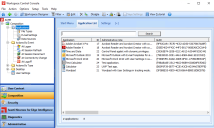 You can sort columns by clicking on the column headers. Columns can be moved and resized by dragging and dropping the column headers. In the Options menu, the option Reset all column properties to defaults can be used to restore the columns to their original position and size.
Search
Filter the applications visible in the Application List tab using the Search option. Enter a search criteria in the Search field and select Search. The option accepts the following search criteria:
If the entered criteria matches several applications on different fields, then all the results are displayed. For example, searching for test can result in showing applications that contain test in their Title or their Administrative note.
To view all the applications in the list without any search filters applied, leave the Search field blank and select Search to refresh the view.
Export as CSV
The list of Workspace Control managed applications can be exported as a CSV file.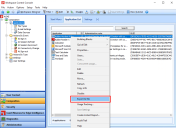 To export the application list as a CSV file, follow these steps:
Right-click in Application List pane and select Export to file from the context menu.

In the Export to file window:

Select a location where to export the managed application list.

Enter a name for the CSV file in the File name field.

Select Save.
Use Search to filter the application list. Exporting the list after filtering only exports the search results, and not the entire list of applications.