General
On the Properties > General tab, you can review (and edit) the application settings. If you add an application without the wizard, these settings must be configured manually.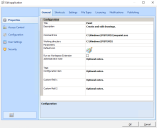 The Citrix Integration Toolkit can be used to convert unmanaged Citrix published applications to managed equivalents.

The option Allow users to restore their own settings at Composition > User Settings only works if the Workspace Preferences tool used by end-users fetches its data from the same home directory as the UWP application itself.

To create the name of application shortcuts, the application's title and its Start Menu path are used. This name may not exceed 255 characters. Microsoft Windows cannot handle application shortcut names that are over 255 characters. This results in an application shortcut that does not work properly.

Due to Microsoft Windows limitations, multiple explorer.exe shortcuts with different parameters that are pinned to the taskbar do not stack on the proper taskbar icon.