Workspace Control Modules
The Workspace Control product family consists of different modules in which different sets of Workspace Control features are available: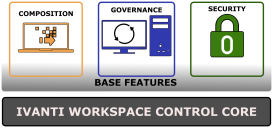 Workspace Control Core
Workspace Control Core is the free starter package offering basic Workspace Control functionality. It supports 25 named users when unregistered and supports unlimited named users when registered.
Workspace Control Core contains:
Basic Workspace Composition:

Workspace Designer

Managed applications

Data Sources

Session-level User Settings

Session-level Folder Synchronization

Locations and Devices (Zones)

Integrations:

Citrix XenApp, RemoteApp, and Application Virtualization

Ivanti products: Identity Director, Automation, and Ivanti VDX

Microsoft System Center Integration and LANDesk Integration.

Management:

Building Blocks and Instant Reports

Workspace Control

Workspace Analysis
Base Features
The three paid modules – Composition, Governance, and Security - all contain the following:
Relay Servers

Advanced Workspace Control

Delegation of Control

Auditing

WiFi Zones

Workspace Branding

Connection State

Time Restrictions

Workspace and Printing Preferences for end user
Composition
The Composition module contains features for creating a personalized (dynamic) desktop.
Provide users with a context–aware and centrally managed workspace that contains all the right applications, data, printing and personal settings essential for their productive working.
It contains the following:
Advanced Workspace Composition:

Application level:

User Settings

Actions, such as Folder Synchronization

Data Sources

Zero Profile Technology

E-mail Settings

Desktop background

Screensaver

Lockdown and Behavior
Governance
The features in the Governance module provide insight into what is configured, changed, and used, and increase your ability to manage your infrastructure with change logs, current status reporting, and license usage data from all users.
It contains the following:
Alerting

Usage Tracking

License Management

Workspace Performance

Workspace Simulation

Filtering and Scope Control

Advanced Access Control
Security
This module delivers a context-aware security layer that is created around the workspace, to effectively protect against internal and external threats. You will be able to deliver a personalized desktop according to company business rules and compliance. Unauthorized actions such as executing certain applications and the use of removable disks are prevented based on the user's context.
It contains the following:
Application Security (i.e. allow and deny rules)

Authorized Certificates

Authorized Files

Authorized Owners

Network Connections Security

Dynamic Privileges

Data Security

Website Security

Access tokens (USB Zones)

User Session Security

User Installed Applications
For more details, please check Workspace Control Module Comparison.
Additional functionality is unlocked by adding additional Module licenses. No downtime or additional software deployment is needed.

During the evaluation period, you can simply switch between modules (at Licensing in the Setup menu). You can also switch if you have extended your evaluation period by importing evaluation licenses, or if you have NFR licenses (Ivanti partners only).