Windows Client Policy Tool
Introduced in 2020.3, the Windows Client Policy Tool provides a user-friendly interface to enable the modification of synchronization settings and rules. Collectively, the settings and rules determine your synchronization policy and determine which files are managed by File Director.
Video: File Director - Windows Client Policy Tool
Certain features within the File Director Windows client can be enabled and/or configured via the registry or by using group policy (ADMX files). Historically, these have been configured via engineering keys. The Policy Tool enables Administrators to configure the settings and create synchronization rules from a single interface.
The use of synchronization rules provides important benefits for system and infrastructure administrators. The rules allow you granular control over the files included (or excluded) in synchronization. The Policy Tool provides a simple workflow where the rules can be created without detailed knowledge of the expression logic or technical language.
The tool can be used to create client configuration settings and/or sync rules. The resulting registry files are then exported as a single file folder which can be deployed to endpoints as required.
Note that changes to feature settings and the creation of sync rules are non-persistent within the Policy Tool.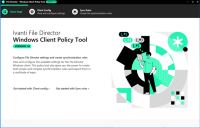 The tool consists of 3 sections:
•Home Page
Provides an overview of the tool functionality and links to other sections.
•Client Config
Enables the configuration of available Windows client settings.
•Sync Rules
Provides an expression builder tool that enables exclusion and elective synchronization rules to be created quickly and simply - and with the required syntax structure.
Related topics