About Service Carts
CSM provides a service cart as a Major Business Object for customers to use in the supplied IT Portal.
A service cart is an e-commerce tool that allows customers to add multiple Service Requests to a single order, and then temporarily hold the items until they are ready to submit the full order. When the order is submitted, each Service Request automatically creates associated Tasks based on related Service Catalog Template Work Units. Technicians fulfill the Service Requests in CSM, and customers view and track the Service Requests (and Service Request history) on the My Service Orders page of the Customer Portal.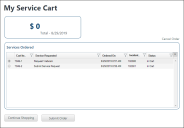 Service Cart can be used to support Multi-Sourcing Service Integration (MSI) and Service Integration and Management (SIAM).