About Dashboards
Use a dashboard to monitor critical metrics, analyze and predict trends, drill-down into data, initiate commands and actions, or display information that might be relevant to a group of users or customers.
Example dashboards include:
Global IT Dashboard: Presents critical Business Object data and analytics (example: Open Incidents and Tasks, team workloads, and closure rates).
Business Object Dashboards: Intuitively organize critical Business Object data and analytics into real-time, at-a-glance control panels.
Personal Dashboard: Presents personal data and analytics (examples: Incidents and Tasks owned by you or your team).
Portal Dashboards: Designed specifically for the

CSM Portal

to provide customer-specific at-a-glance information and navigation functionality, such as links to helpful self-service Actions (example: Report an Incident and Search Knowledge Articles and FAQs), a community announcement board, a list of open records (example: (Incidents and Problems). For more information, refer to Portal Dashboards.
The following figure shows an example dashboard with several different types of widgets. A theme controls the fonts, colors, and styles of the dashboard and its widgets, and gives the dashboard a cohesive look. Configurable filtering, drill-down, and refresh capabilities allow you to view information when and how you want.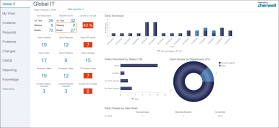 Each user has a designated default:
Home Dashboard: Opens when you first log in or when the Home button is clicked on the

CSM Desktop Client

toolbar or

Browser Client

menu bar.
Heads-Up Display (HUD): Pops up a transparent dashboard that can be accessed from anywhere in the application when you press F4.
Dashboard Theme: Colors, styles, and fonts to give the dashboard a cohesive look and feel.
The default dashboards (Home and HUD) and dashboard theme are initially selected in CSM Administrator, either globally or by role. Users with security rights can select their own user default dashboards and dashboard theme in the CSM Desktop Client. Access available dashboards using the Dashboard Manager.
CSM provides several OOTB dashboards, designed to help facilitate common service desk operations. Use these OOTB dashboards as-is, edit them, or create your own using the Dashboard Manager and the Dashboard Editor.
CSM also provides a variety of configurable Widgets to empower your dashboards. For more informatio, see the Widgets documentation.
CSM also provides a stand-alone Dashboard Viewer that allows non-CSM users to view dashboards without consuming a license.