One-Step Editor
The One-Step Editor is a tool that allows you to easily create simple or complex One-Step Actions to automate common or repetitive tasks in CSM. Use the One-Step Editor to create and edit One-Step Actions in CSM Administrator or the CSM Desktop Client.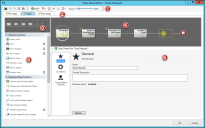 One-Step Action

Components:

Tabs that show Designer Boards for the series of Actions that comprise the One-Step Action (the main Actions as well as pre-steps and post-steps, if applicable).

Aerial View:

View the entire process as you zoom in and out. Also allows you to move the section of the current process on the Designer Board.

Designer Board:

A visual representation of the process.

Actions Pane: Actions available to be added to the Designer Boards. These are categorized as:

Common Actions: Actions that are commonly used in

One-Step Actions

.
Business Object Actions: Actions that create new Business Objects or require access to Business Object data.
Advanced Actions: Actions that involve knowledge of advanced concepts and/or more complex configuration.

The Trusted Agents icon () indicates Actions that can be executed using Trusted Agents.

Step Details:

Details of the currently selected step in the process.

This is where you define properties for the

One-Step Action

and for each Action.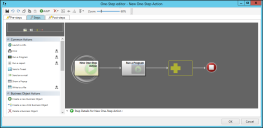 The Designer Board for the One-Step Editor includes the following elements:
Start Graphic:

Event or starting point that initiates the process.

Select the Start Graphic on the Designer Board to define general properties for the process.

Placeholder Graphic:

Holds the steps (Events and/or Actions) that constitute the process.

A yellow Trusted Agents icon indicates if an Action is configured to run using Trusted Agents.

End Graphic:

Indicates the end of the process.