Service Manager
About Budgets
You can establish and track budgets in Service Manager as part of IT Financial Management. Financial management consists of the following parts:
•Historical Data Collection: Compiles the data to use for the budget plan.
•Budget Plan: Creates the budget.
•Cost Tracking: Tracks the actual costs and compares them with the budget.
•Analytics: Reports the data results.
The lifecycle of the budget follows this model.
Budget Lifecycle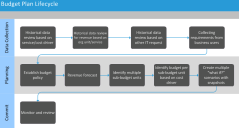 Historical Data Collection
During this phase, do the following:
•Gather ad-hoc trend analysis based on run-time defined data filter criteria, such as date range, cost driver, service, entity, and price list items.
•Track customer requirements for the next budget year.
•Create budget items from historical data.
Budget Plan
The budget plan consists of various parts:
•Master budget plan: The overall budget, such as the budget for the current fiscal year. See Creating a Master Budget Plan.
•Sub-budget plan: Sub-budgets are for specific entities within an organization or services, such as Sales and Marketing, Mobile Communication, or special projects. See Creating a Sub-Budget Plan.
•Budget items: Budget items are specific items tracked within the budget.
•Budget requirements: Budget requirements are captured in the field called Budget Policy where details of budget requirements and policy are entered.
Variable Cost Modeling
Service Manager supports variable cost models that allow you to create cost items and price lists that support variable costs for business objects. For example, you can add different price list items for business objects for specific time periods, such as months or years. See Working with Cost Items.