Cloning a Quick Action
You can create an exact copy of a quick action, then easily modify any parameter.
1.From the Configuration Console, click Build > Automation Tools > Quick Actions to open the Actions Manager workspace. The list of business objects that have quick actions appears.
2.Click Add/Edit for the business object for which to add a field. The Quick Actions Center appears.
3.Open a quick action from either the Your Actions or the Create New Actions tab.
Cloning a Quick Action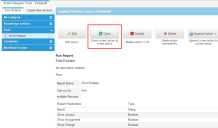 4.Click Clone to activate the configuration interface.
5.Click the quick action name and enter a new name. Service Manager only runs the first quick action encountered if there are duplicate names.
6.Edit any fields as needed.
7.Click Save.
The cloned quick action now appears under the Your Actions list.