Metrics
Web Statistic metrics are comprised primarily of Ivanti Voice statistics, although a metric can also be a title or an image, such as a company logo. You will select from this list of metrics when creating view parts.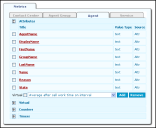 Web Statistics provides a number of delivered metrics, arranged by object: Contact Center, Agent Group, Agent, and Service, and categorized by:
•Attributes - Defined characteristics such as company logo, agent name, group name, etc.
•Virtual - Dynamic characteristics such as agent state images, agent time in current state, etc.
•Counters - Quantifiable such as calls queued, number of calls abandoned, number of agent in busy state, etc.
•Time - Reflective of time such as average busy time, time to answer, total ready time, etc.
Click the icon

next to each category to display the list of metrics in that category.
You can move the delivered metrics from one category to another, as desired. You can also add metrics to each category and create custom metrics.