Product Catalog
The Product Catalog workspace displays a list of standard assets that can be requested by users. The Procurement Manager user role typically manages this workspace, though Asset Administrator and Asset Manager roles can access it as well.
Although users can request items that aren't in the Product Catalog, this is typically a longer process with additional steps. Items in the Product Catalog have agreed costs from selected, approved vendors, which means that if an item needs to be purchased because it's not in stock, much of the procurement process can be bypassed.
Catalog items are standard hardware, software, and consumables (or bundles of those items). A bundle can be any grouping of items currently available from the Product Catalog list view. Bundles are useful for streamlining the request process if certain items are generally purchased together—pricing is the sum of all items found within the bundle. Currently, a bundle can only support one of each catalog item shown in the catalog list view, so you cannot create one bundle with two of the same monitor, for example.
When you create a catalog item, you're not creating a record for an actual item, but rather the definition of an item to be requested: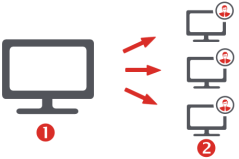 1 – Product Catalog item, the template for the assets that are requested.
2 – Individual asset records created after being requested from the Product Catalog.
The Product Catalog workspace displays a list of the price list items that are in your database. You can use the saved searches drop-down to view a variety of Product Catalog lists—for example, all products, products in stock, products out of stock, and so on.
After creating the catalog items, the next step is to design the Product Catalog form for making those items available to users online. For details, see Designing the Product Catalog form.