Download One or More Updates to the Local Source Folder
You can download selected updates to a local source folder. Downloading updates in advance will help speed the publication process. This feature is also useful if you need a way to manually download updates and then move them to a secure, isolated network.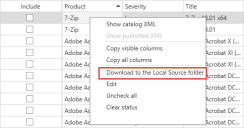 This option is only available if the Use a local source folder option is enabled on the Patch for MEM Settings dialog. For details about the local source folder, see the Offline Options Tab.