Logging into
Ivanti

Neurons

RBVM/ASOC/VULN KB

Using SAML

Summary: How to log into the Ivanti Neurons platform using SAML.

Security Assertion Markup Language (SAML) is an open standard for exchanging authentication and authorization data between parties; SAML is used between an identity provider and a service provider. SAML helps you log into Ivanti Neurons securely.

If your account is set up with SAML, you cannot use the standard username and password login method. To log in without using SAML, see Logging into Ivanti Neurons.

To log into the Ivanti Neurons platform using SAML, open a web browser and navigate to your Ivanti Neurons platform. If you see the following login screen, click Login with SAML. Otherwise, proceed to the next step.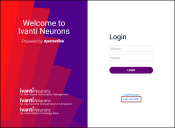 Here, you will see a SAML login where you can input your email. Enter your email in the designated box and click SAML.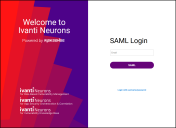 This action takes you to a SAML login screen. Input your SAML login credentials and click Submit. You will be redirected to Ivanti Neurons and are now logged into the platform.