Logging into
Ivanti
Neurons
RBVM/ASOC/VULN KB
Summary: How to log into the Ivanti Neurons RBVM/ASOC/VULN KB platform.
If your account is set up with Security Assertion Markup Language (SAML), you cannot use the standard username and password login method. To learn how to log in using SAML, see Logging into Ivanti Neurons Using SAML.
To log into the Ivanti Neurons platform, open a web browser and navigate to your Ivanti Neurons platform.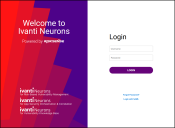 On the login page, enter your username and password. Username is typically your first name initial and your last name (e.g., John Smith = "jsmith"). Once you have entered your credentials, click the Login button.
If this is the first time you have logged into the Ivanti Neurons platform, you are prompted to change your password.
Otherwise, the following screen prompts for an additional security code. Check your email (or mobile phone, depending on your settings), enter the code you received in the provided text box, and click Submit. Clicking the checkbox underneath the security code field prompts the platform to remember your computer name and IP address combination for seven days (by default) before requiring you to enter a new security code.