Downloading a File via Email Notification
Summary: How to download a file via email notification from Ivanti Neurons RBVM/ASOC/VULN KB.
You must be signed into Neurons RBVM/ASOC/VULN KB prior to clicking the email notification link to download the file.
Neurons RBVM/ASOC/VULN KB sends an email notifying you when your file is ready for download.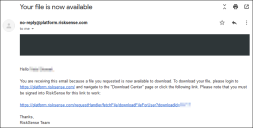 To download the file, click the email's second link.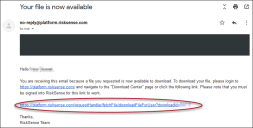 Your computer will prompt you to save the file.
If you did not receive or no longer have this email, you can still download the file from within the platform. See Downloading a File from the Download Center for more information.