Group By: Overview
Summary: High-level overview of the Group By feature in Ivanti Neurons.
Group By allows you to gain new actionable insights into your data. Each Group By transforms the underlying data into a list of values for that Group By field. Each additional column shows associated related metrics such as the count of impacted assets or the number of associated open findings.
Grouping Data
Group By is available on the Hosts, Host Findings, Applications, and Application Findings pages. To view the list of available Group By views, open the drop down just under the active filter bar.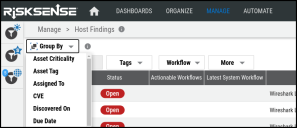 When you apply a Group By, the Group By appears at the top next to any active filters. To remove the active Group By, click the "X". You can also switch to another Group By view by selecting another Group By from the drop down.

The platform shows up to the first 1,000 results for your current filter selection and sort. If the total number of Group By results exceeds this limit, you will see an alert at the top of the page under page navigation.

To view all results, you can export the Group By view as a CSV, XLSX, or JSON file. You need to provide a name for the export and the file type. A single export will always contain all results and all columns (both enabled and disabled).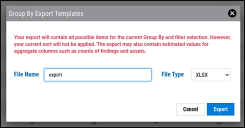 Filtering a Group By
You can apply or remove filters either before or after adding a Group By. You can also apply System or Saved filters.
While you have an active Group By, saving active filters is disabled.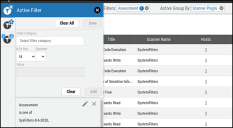 Sorting Results
You can sort your Group By in either ascending or descending order by a single column. If you can sort by a particular column, you will see an arrow next to the column name if you hover your mouse over it. Click the column once to sort in descending order and twice to sort in ascending order.

If the total number of items exceeds 100,000 results, you can only sort the Group By view by the first column that shows Group By terms. The platform will alert you if you attempt to sort a dataset of this size by any other column. If you need enable sorting on other columns, try adjusting your filters to reduce the size of the dataset.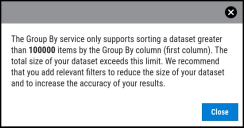 Configuring Page Settings
By default, each Group By has certain columns enabled. Open the page configuration settings to reorder columns, enable optional columns, or disable columns. You can reorder or disable any column except the Group By column (the first column).

Your column selections for the current Group By will have no impact on your default page view or on future Group By operations. Each time you apply a new Group By, you will see the default list of columns for that particular Group By view.
By default, the platform will show 100 results per page. You can change this setting for particular page until your session ends (for example, for all Hosts Group By). The setting resets after you log out or switch to another client.
Additional Resources