Security Controls
How to Scan for Third-Party Applications
This topic describes how to scan for third-party applications that you want to install on your target machines.
1.From the main menu click New > Windows Patch > Patch Scan Template.
The Patch Scan Template dialog appears.
2.In the Name box, type a name for this custom scan (for example, Software Distribution Scan).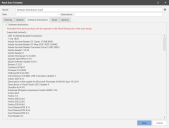 3.On the Software Distribution tab, enable the Software distribution check box.
4.Click Save.
5.Initiate a scan using this new scan template.
For example, you might click on the desired group in the Machine Group pane, select the new custom scan template in the Scan with box, and then click Begin Scan.
6.When the scan is complete, see Deploying Third-Party Applications for information on installing the applications.