Security Controls

Cloud Synchronization Options

The Tools > Options >Security Controls Cloud Sync tab is used to register your Security Controls console with the Security Controls Cloud service. Registering the console is the first step you must perform when configuring and using the Security Controls Cloud synchronization feature. After the registration process is complete, the console will be able to upload agent policy information to the cloud service and it will be able to receive agent-related information that is reported to the cloud service by agents.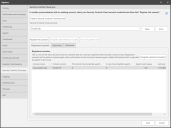 Create a Security Controls Cloud account

If you do not have a Security Controls Cloud account, you can create an account by clicking this link. You can configure your Security Controls agents to use Security Controls Cloud as a cloud-based source for checking in and receiving policy updates.

Security Controls Cloud account

Select the credential (the user name and password pair) that you use to authenticate to your Security Controls Cloud account.

If you have not defined your Security Controls Cloud credentials within Security Controls, you can do so by clicking New. For more information, see Defining Credentials.

Register this console

Uses the specified credentials to contact your Security Controls Cloud account and register the Security Controls console. When the process is complete the message This console is registered is displayed. You can also find a record of the registration within Event History.

Unregister and delete all my data

Unregisters the console and deletes all policy and agent data that resides on Security Controls Cloud.

IMPORTANT! Any agent that communicates with the console solely via Security Controls Cloud will be effectively orphaned and will eventually uninstall itself.

Force full update now

Initiates an immediate update of your Security Controls Cloud account. Current copies of all agent policies that are configured to use Security Controls Cloud are synchronized with Security Controls Cloud. You should perform this action only if you have a concern that the agent policy data contained on the cloud service is not up to date.

Outbound port 443 must be available to complete this action.

Registered consoles / Agent keys

These two tabs show the console machines and agent keys that are being managed by Security Controls Cloud. For more information, see Installing Agents from the Cloud.