Advanced Filtering
The Advanced Report Filters dialog enables you to effectively drill deeper into your scan and deployment results and extract more meaningful information. It does so by enabling you to select exactly which information you want to include in the report.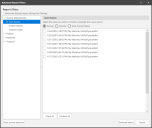 To use the Advanced Report Filters dialog:
1.Select each of the available options one at a time from the list on the left and on the right-hand side specify the items you want to include or exclude.
2.When you are ready to generate the report, click Generate report.