Assigning IP Addresses to Distribution Servers
You define which target machines will use a particular distribution server by assigning the IP addresses of the target machines to the distribution server. To assign one or more IP address ranges to a distribution server, select Tools > Options and then select the Distribution Servers tab. Any currently defined IP address ranges are shown in the IP Ranges pane.

To modify an existing entry, select the entry and then click Edit. To define a new range of IP addresses, click New. The Distribution Server Group dialog is displayed.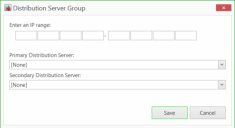 | | |
| --- | --- |
| Enter IP range | Use the available fields to define the new IP address range. |
| Primary Distribution Server | Select the distribution server you want to use as the primary distribution server for this collection of target machines. |
| Backup Distribution Server | (Optional) Select the distribution server you want to use as the secondary distribution server for this collection of target machines. The secondary distribution server is only used if the primary distribution server is unavailable. |
| Save | To accept the current settings, click Save. |
| Cancel | To cancel without saving your changes, click Cancel. |