Creating a Custom Bulletin
A security bulletin provides a summary describing why a custom product or patch is being created. Many times a bulletin will describe a particular software vulnerability that is being addressed by a patch. You must apply a new custom patch to a bulletin, so if you are not tying a patch to an existing bulletin then you must create a new bulletin.
1.To create a custom bulletin, within Custom Patch File Editor select Insert > Add Bulletin or click the Add Bulletin toolbar icon (

).
The new custom bulletin is selected and the bulletin characteristics are displayed in the right pane.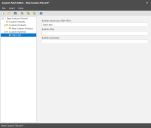 2.Use the options in the right-hand pane to define the new bulletin.
| | |
| --- | --- |
| Bulletin Name | Type a unique name for the bulletin. The name cannot match a bulletin name already defined to the program. |
| Bulletin Title | Type a short description of the bulletin. |
| Bulletin Summary | Type a detailed summary that describes the purpose of the bulletin and any related patches and products. |
3.When complete, save and then validate the XML file (see Saving and Validating Your Changes).