Deployment History
Even after a series of deployments, all of the results of prior deployments are just a click away. The deployment results are recorded in the Results list in the navigation pane. In addition to deployments, the Results list also maintains a list of recent scans. The number of items shown in this list is configurable using Tools > Options > Display > Recent items.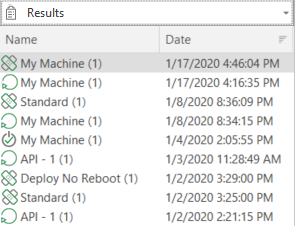 Related Topics
•Viewing Patch and Asset Summaries in Machine View: You can view patch deployment information from selected machines using Machine View.
•Database Maintenance: You can get a complete list of available prior deployments by choosing Manage > Database Maintenance.