Monitoring the Deployment
The Operations Monitor is used to track the status of each patch deployment. It is displayed automatically and it provides progress information about each step in the deployment process. You can expand the list in the Patch progress table to view deployment information on individual patches. You can also sort the tables by dragging a column to the first position.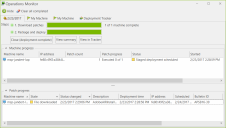 Scheduled patch deployments can be managed using the Scheduled Remote Tasks Manager.
Active patch deployments can be monitored using the Deployment Tracker.
Completed patch deployments can be reviewed by selecting the deployment in the Results list. See Viewing Deployment Results for details.
Patch deployment information can be reviewed on a machine basis using Machine View.
Tips for Monitoring Patch Deployments to Virtual Machines
•When using Deployment Tracker, if you notice that a server task has failed for a virtual machine (for example, taking a snapshot or re-enabling the network), you can complete the task using your client software.
•In addition to using the tracking tools provided by Security Controls, for virtual machines that are hosted on a server you can also use your client software to monitor the patch deployment progress. For example: