Populating the Address Book
The address book is used to store the email addresses of those users you want to send messages or alerts. You can also define one or more email groups. To add, delete, or modify the contents of the address book, select Manage > Address Book. The Address Book dialog is displayed.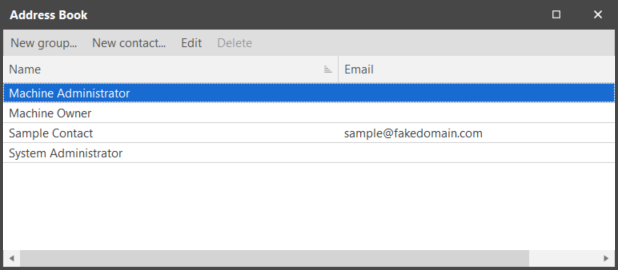 The address book initially contains default entries for the machine administrator, the machine owner, and the system administrator. More than one contact can be defined as a system administrator.
Defining a New Contact
1.Click New Contact.
2.Type the name of the contact as you want it to appear in the address book.
3.Type the email address of the contact.
4.If you want the contact to receive messages that are automatically sent to all system administrators, enable the System Administrator check box.
Defining a New Email Group
1Click New Group.
2.Type the name of the group you want to create.
3.To populate the group, enable the desired check boxes in the list of available contacts and then click Save.
•If you want to add every contact in the list to the group, click Check All.
•If you want to define a new contact, click New Contact.
Deleting an Existing Contact or Group
1Select the contact or group you want to delete.
You can select multiple entries at one time by pressing and holding the Ctrl key while you select each entry.
2.Click Delete.