Reporting Errors and Checking for Possible Solutions
If an error occurs that requires the program to close in order to recover, an error dialog will be displayed.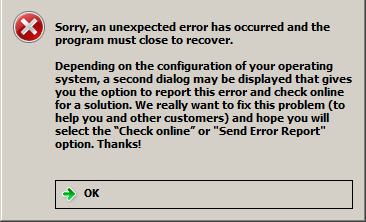 If your operating system is configured to allow the capture and reporting of errors, after you click OK a second dialog will be displayed. This dialog gives you a couple of error reporting options.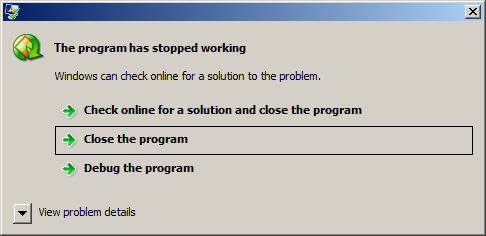 Check Online for a Solution
This dialog gives you the option to send information about the error to Ivanti and to receive a possible solution to the problem. Ivanti recommends selecting the Check online for a solution and close the program option. This option will:
Send information about the problem to

Ivanti

so the problem can be researched and fixed.
Query an online database for a possible solution to the problem. If a solution exists it will be displayed on the console machine in a separate dialog.
Privacy and Security Concerns
Only information pertaining to the specific problem will be sent to Ivanti; no personal, machine, or network information is collected or sent. The information is sent anonymously and the process will not impact your network.