Using the Run console ITScripts Dialog
The Run console ITScripts dialog enables you to select and run those scripts that are designed to run only on the console machine (and not against target machines). You access this dialog by selecting Tools > Run console ITScripts.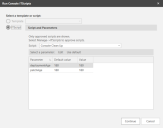 | | |
| --- | --- |
| Template | If you choose to run a console-only script using a template you will execute the script using predefined parameter values. |
| Script | If you choose to run a script directly without a template you have the ability to modify the values of the input parameters associated with the script. All approved console-only scripts contained in the Script Catalog Manager are available for selection. The Script Catalog Manager will also provide detailed information about each script. |
| Parameters | Displays the input parameters used by the script and the parameter values that will be used by the template. To modify a parameter value, double-click the parameter or select the parameter and click Edit. The Edit Script Parameter dialog is displayed. |
To execute the selected script, click Continue. To close the dialog without initiating a script, click Cancel.