Configure inventory change settings
NOTE: You must first configure these settings if you want to view, print, or export inventory changes for any devices on your network.

Show/Hide image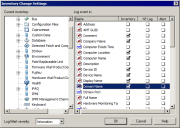 To configure inventory change settings
Click Configure > Inventory history.
In the Inventory change settings dialog, expand the Computer object in the Current inventory list, and select the system component you want to track.
In the Log event in list, select the component's attribute you want to track.
Select the appropriate check box to specify where to record a change in that attribute. Inventory changes can be recorded in the inventory changes history log, Windows NT event viewer log, or as an AMS alert.
Select a severity level from the Log/Alert severity drop-down list. Severity levels include: None, Information, Warning, and Critical.
Click OK.
For more information, see About the Inventory change settings dialog box.