Applying your Ivanti license
Before you can use Ivanti Service Desk or Asset Manager, you need to apply the license that is e-mailed to you. The following procedure describes how to apply the license using the Ivanti Console.
To apply the Ivanti license:
Save the license file attached to the e-mail to your computer.
The license file has an extension of .tpc.
Start the Ivanti Console and log in as SA.
The default password is

administrator

.
From the shortcut bar, start the

License Maintenance

component.
Click next to

License File

.
The Browse dialog appears.
Browse for the *.tpc file that was e-mailed to you.
The license file is selected.
Click

Upload

.
The license is uploaded and applied. The View License Content fields update.
If your Service Desk or Asset Manager system contains more analysts that are allocated a fixed license than your license file allows, the license is still applied. However, you will need to change the user license allocation before any analysts allocated a fixed license can log in.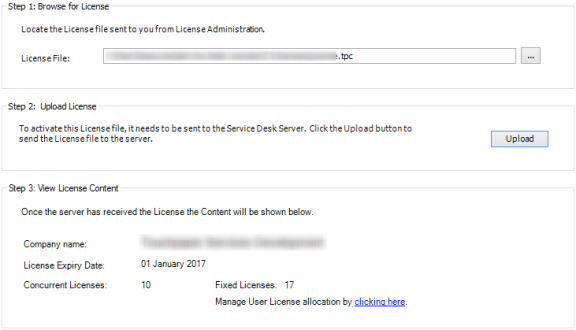 ---