Including summary information in the query grouping
After you have designed your grouped query, you can choose to include a footer for each group in the query that reports, where appropriate, the minimum, maximum, mean, and sum of the values for any of the attributes in the query.
This information is available in the Ivanti Console only, and not in Ivanti Web Access nor Ivanti Workspaces.
To include summary information in the query grouping:
Open the grouped query in Query Designer.
Make sure that the query contains at least one group, and that the Display in groups check box is selected on the Grouping page.
In the Query tree, click Attributes.
The Attributes & Preview page appears.
In the Selected Attributes list, right-click the attribute that you want to display summary information for, then click Properties.
The Attribute Properties dialog appears.
Click the Aggregates tab.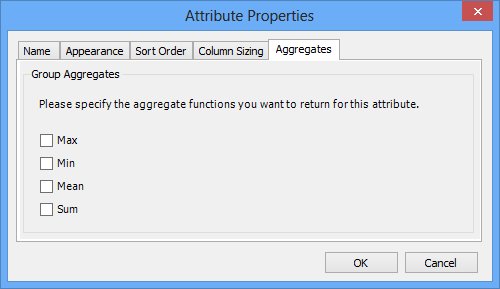 The check boxes that are available depend on the data type of the attribute you have selected. For example, you cannot calculate the sum of a string, the mean of a date, and so on.
Select the check boxes that correspond to the summary data that you want to display, then click OK.
Repeat for any other attributes you require, then click .
The summary information that you selected appears in the group footers when you run the query.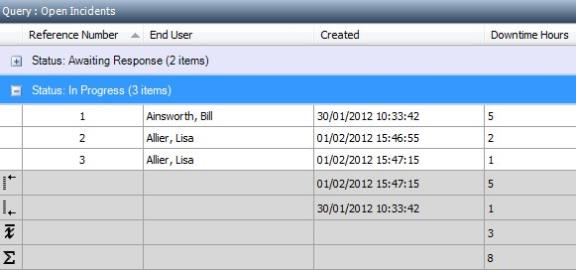 The following icons are used in the footer:

– maximum value in the group

– minimum value in the group

– mean of the values in the group

– sum of the values in the group
---