Scheduling Reports
You can schedule when your reports are run. For example, you may want to schedule a report to run at 8am each morning to send to a manager as a progress report. You can also specify that once the report has run, it is e-mailed to specific people. The reports that are created are generated from queries.
You cannot schedule reports that have user prompts associated with them.
To schedule the generation of a report:
Start the

Schedule Manager

component.
Expand the Report Management tree ()
On the

Report Management

tree, select the

Schedules

folder, then on the

Actions

list, click

New Scheduled Report

.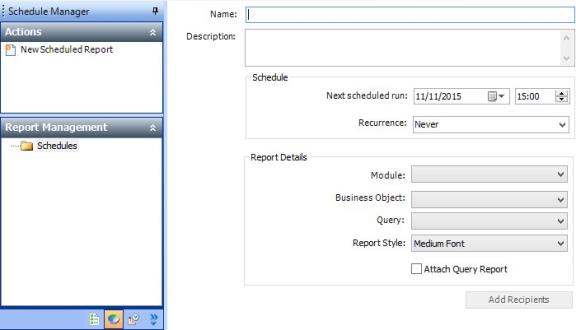 Type a

Name

and

Description

for the scheduled report.
In the

Schedule

group box, specify the data and time that you want the report to be generated, and, if required, in the

Recurrence

list, select how often you want it generated.
In the

Report Details

group box, select the required

Module

.
The Business Object list becomes active.
Select the

Business Object

and

Query

.
In the

Report Style

list, you select the size of font that you want to appear in the report, for example,

Medium Font

.
If you want the query report to be sent as an attachment rather than being embedded in the body of the e-mail, select the

Attach Query Report

check box.
Click .
Click

Add Recipients

.
The Add Recipients page appears. This is the same window that you see when you e-mail a report or query.
Select the required recipients, and in the

Information

group box, type the required

Subject

and

Body

text (if required).
Click .
The report will be generated and send at the scheduled time.
If required, you can modify both the schedule time, and the recipients of the report. On the Report Management tree, select the required schedule then on the Actions list, click Modify Scheduled Report or Modify Scheduled Report Recipients as required.
You can also Deactivate schedules (from the Actions list) if you want to suspend the generation of the report, but don't want to delete it. When you deactivate a schedule, the icon changes from

to

on the tree. You can then reactivate it as and when required.
---