Workspace
Dictionary Language – This enables you to set the language for the dictionary used for spell checking.
Spell checking is unavailable if the culture is set to Japanese or Chinese.
Default Drop Down Page Size – This is the default page size for drop down lists when not overwritten at the Filter Query, Query or Control level.
Split Workspace Actions Panel? – You can specify that a split appears in the Actions list in the Workspace to separate those actions that progress a process, and those which do not. For example, an Assignment would appear in the top part of the split, and Add Note would appear in the lower part of the split.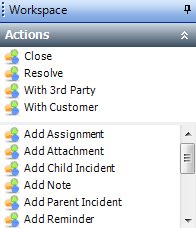 Web Access always displays a split Actions panel, irrespective of this setting.
---