Changing the process or template being used
Some processes may enable you to change the process or template being used at certain statuses by using the Reinitialize action.
For example, your system could be configured so that after an analyst captures and saves the initial information, they can then decide what type of support is needed and select the most appropriate process or template.
To change the process or template for a logged process:
Open the required process.
In the Actions list, click Reinitialize.
The Reinitialize dialog appears.
The Reinitialize action will not be available for all processes, and not at all statuses for the processes where it is available.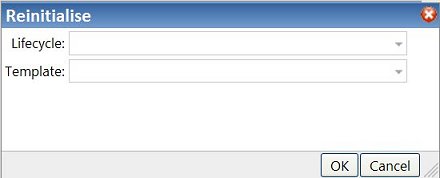 Select the required Lifecycle and/or Template, then click OK.
The process is reinitialized. The Actions list updates to show the actions that are available with the changed process design that you have selected.
---