Setting the Request Mode
The Request Mode tab enables you to specify which of the Services in your system can be requested only once by each user through the Service Catalog, and which can be requested many times. For example, a specific software program might be available for each user only once, whereas requesting access to different shared network drives could be requested many times.
To set whether or not a service can be requested multiple times:
Click the Request Mode tab.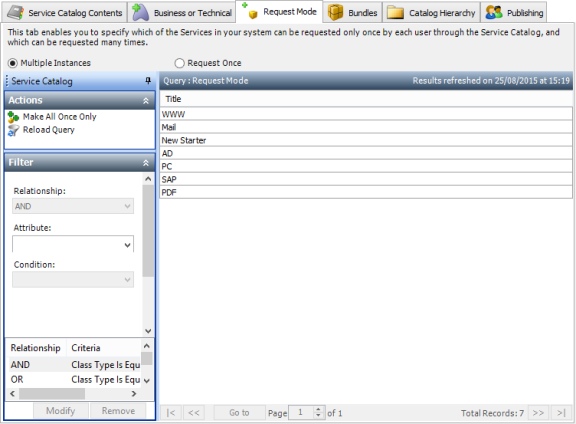 The Multiple Instances and Request Once option buttons enable you to change the contents of the list on the right of the screen between those services that users can request multiple times (directory access, for example), and those that can be requested only once (a desktop computer, for example).
Select the Multiple Instances option button.
The list on the right shows those services that requested multiple times.
Select the services from the list that you want to allow users to request multiple times.
You can select multiple CIs by holding CTRL and clicking, or select a range of CIs by holding SHIFT and clicking.
You can reduce the number of entries in the list using the Filter panel, as for other queries.
In the Actions list, click Make Selected Once Only.
The selected services can be selected multiple times.
Click the Request Once option button.
The services that you made request once are in this list. You can make these services into multi-select services by selecting them in this list, then clicking Make Selected Multi Selectable in the Actions list.
---