Change Management: Simple Change
The simple change process enables you to structure how change occurs within your organization, in order to minimize the impact of change on the business.
The first step in the simple Change process is to add a Task (see later for the Task process). When a Task has been added, the Change can either be authorized or rejected.
If the Change is authorized, it is tested after all of the Change's Tasks have been completed; the Change is then either verified or failed, and it moves to the To Close status.
If the Change is rejected, it moves directly to the To Close status from where it can either be closed, or resubmitted either at a later date or after adding more information to support the Change.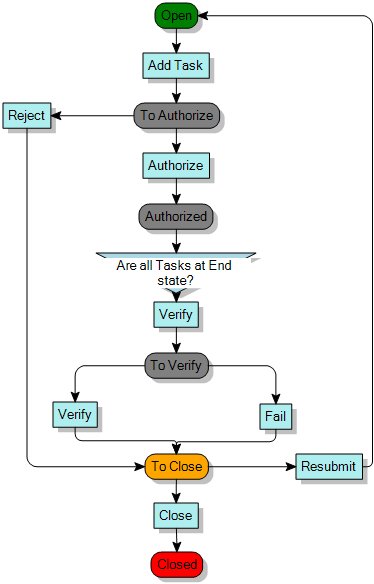 Optional actions for each status:
Status

Optional actions

Open

Add Attachment
Add Child Change
Add Configuration Item
Add Incident
Add Linked Knowledge
Add Note
Add Parent Change
Add Problem
Add Reminder
Assign/Reassign
Create Child Change
Create Escalation Point
Create Incident
Create Problem
Detach Child Change
Detach Configuration Item
Detach Incident
Detach Linked Knowledge
Detach Problem
Start Clock
Stop Clock

To Authorize

Add Attachment
Add Note

Authorized

Add Attachment
Add Note

To Verify

Add Attachment
Add Note

To Close

Add Attachment

Closed

None
The actions that create linked processes (for example, Create Problem) will be available at runtime only if the linked process that is specified has been activated.
---