Setting up the RSS Channel elements
Depending on your RSS Reader, RSS Channel elements display information about the RSS feed and its contents.
To set the RSS Channel attributes:
In the

User & System Queries List

of the

TPS RSS Feed Generator

, select the query that you want to set up as an RSS feed.
The Query Fields list populates with the relevant query attributes. We will use these later when we set up the RSS Item elements.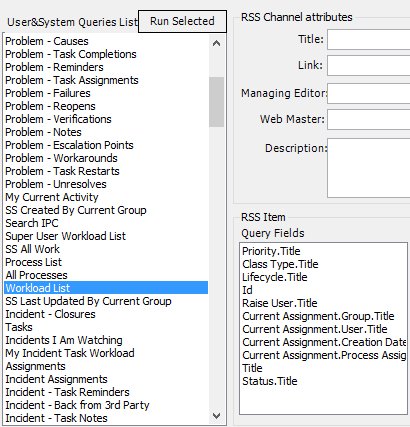 In the

RSS Channel attributes

group, type the relevant information:
Title – the RSS feed reference name. We recommend that the channel title has the same name as the query you are setting up as an RSS feed. For example, Workload List.
Link – the URL to the HTML web site corresponding to the channel. You can leave this blank so that the link is automatically generated, or set up a static link by typing the information. For example, http://QueryServer/ServiceDesk.Framework/RSSDefault.aspx
Description – a sentence describing the RSS feed. For example, The User Workload List.
It is best practice to supply the Title, Link and Description elements. The following RSS Channel elements are optional:
Managing Editor – the e-mail address for the person responsible for the query content.
Web Master – the e-mail address for the person responsible for technical issues relating to Service Desk.
---