Calendar
On the Licenses page, click Calendar above the data grid to display the Calendar page, where you can create and manage calendar events. This is especially helpful in supporting SAM team processes and managing team member tasks across disparate teams or team locations.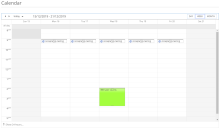 Initially, the current week appears in the weekly view with any existing events. Click the Forward and Back icons at the top left of the Calendar page to move forward or back within the calendar, or use the Calendar control to select a new date.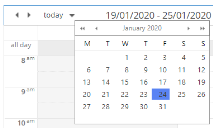 Use the Day, Week, and Month buttons at the top right of the page to display different views. In the daily or weekly view, business hours are shown by default. To display a 24 hour view, click the Show 24 Hours link at the bottom of the page.
Adding events
To add an event, click the required time period on the calendar to display the Add Event pane.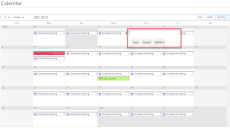 Type a subject for the event into the text field, then click Save.
Clicking Options displays the Edit Event dialog.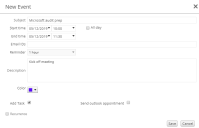 From this dialog, you can edit the event subject and the start and end dates and times. Click the All Day check box to create an all day event.
In the E-mail IDs box, specify an e-mail address to which a reminder will be sent. Separate multiple e-mail address with commas. License Optimizer sends the reminder e-mail at the time specified by the Reminder.
In the Reminder drop-down list, specify the time period ahead of the event start date and time when you want to send the reminder. If you do not want to set a reminder, select -.
Add a Description to provide more information relating to the event.
Select a Color for the event to help to differentiate between events that relate to specific vendors, business units or SAM team members.
The Add/Update Task check box enables you to specify whether to create or update a task for the event. If you choose to create an associated task for the event, it appears in the Task page. For more information on Tasks, see Tasks.
Select the Send Outlook Appointment check box if you want to send an Outlook appointment to the addresses specified in the E-mail IDs box for the appointment. This enables you to synchronize the Calendar in License Optimizer with your own Outlook calendar or other people's Outlook calendars.
Select the Recurrence check box if you want the event to recur. The Recurrence pane appears, enabling you to set the recurrence of the event.
Editing events
You can edit an event by double-clicking it to display the Edit Event pane.
Deleting events
Click the x icon at the top right of the event you want to deleted. You are asked for confirmation.