Tasks
You can create your own tasks with due dates that act as reminders to yourself. You can create tasks manually or from a license page.
Tasks appear in the Task List, which you access by clicking Tasks under Tools on the menu bar: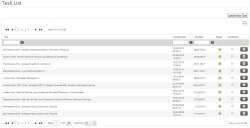 You can sort and filter the Tasks data grid as required. For more information on grids, see Viewing pages of data.
The Tasks data grid provides information on the task title, the date that the task was created and the date that the task is due. The Status column indicates whether the task is overdue (i.e. the due date has passed): if the task is overdue, a red circle icon appears; if the task is completed or the due date has not been exceeded, a green circle icon appears.
To mark a task as complete, select the associated check box in the Completed column. You can edit or delete a task using the in-line gears menu for the task in the data grid.
Creating new tasks
To create a new task manually from this page:
Click

Create New Task

.
The New Task Item dialog appears.
Complete the dialog as required, then click

Save

.