Editing and deleting a software record
You can edit software records from the Software page. You can choose either to edit a single record or multiple records at once. If you choose to edit multiple records, then fewer fields are available to update.
To edit a single software record:
1.Select a software record, then click Edit from the gears menu.
You can edit only a single record using the Edit option.
The Edit Software page appears.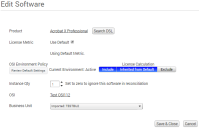 2.Edit the following properties as required:
•Product
•License Metric – clearing the Use Default check box displays the Metric drop-down list. Selecting the Use Default check box applies the default metric for the product.
•OSI Environment Policy – for more information on OSI Environment Policies, see Default Settings.
•Instance Quantity – enables you to increase the quantity used in reconciliation or, if set to zero, ensures the software is ignored in reconciliation. This can be useful when dealing with software that is related to an OSI which uses a metric that is unrelated to the hardware (for example, the IBM RVU metric) allowing the software to be shown on the OSI without reflecting in reconciliation.
•Business Unit
•Extended fields, where applicable – for more information on extended fields, see Software.
Quick Edit
The Quick Edit option in the Software page gears menu enables you to update multiple selected software records at the same time. Clicking Quick Edit with several records selected displays the Quick Edit Software dialog, where you can update the Product, License Metric (only if the Product is changed), Instance Quantity, and Business Unit.
To implement the specified changes, click Update Items.
When you click Update Items:
•Any unselected properties remain unchanged.
•For large selections of records, the update action may take some time.
•During the update action, you can suspend the bulk edit at any time by selecting the Click to suspend bulk edit check box and choosing to cancel the update action.
•The number of selected records appears on the Update Items button.
Deleting software from an OSI
To delete software records, select the check boxes alongside the relevant records, then click Delete from OSI from the Software page gears menu. You are asked to confirm the deletion.