Creating a new scenario model: General stage
The General stage of the creating a new scenario model process enables you to set the general parameters of the scenario that you want to model.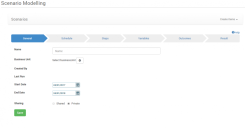 To complete the General stage:
1.Specify a Name for the new scenario.
2.Click the gear icon to the right of the Business Unit field to select the business unit for which the scenario is relevant.
The business unit list appears.
Select the top level if the scenario applies across the organization. If you select a parent business unit, the scenario applies to all of its child business units.
3.Specify a Start Date and an End Date to set the time period over which the scenario will be modelled with all costs and outcomes contained within this range.
You can create only Private scenarios. The Shared option button under Sharing is unavailable.
4.When you have completed all required fields, click Save.
The Delete button appears so that you can delete the scenario model if required. The other stages of the scenario modelling process become available.
Next
The next stage in the process is Creating a new scenario model: Schedule stage.