License Optimizer
Creating a new scenario model: Schedule stage
The Schedule stage of the creating a new scenario model process enables you to establish how costed components are applied over the duration of the scenario.

The Schedule stage comprises two tabs:
•Cost Management – enables you to import a budget from License Optimizer's budget management function. For more information, see Budgets Configuration.
•Calculate –enables you to apply a simple split of costs over the scenario time frame established in the General stage.
Cost Management
To set up a schedule:
1.Click Select on the Cost Management tab.
The Select a Budget dialog appears.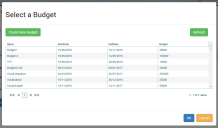 2.Either select an existing budget from the data grid or create a new budget by clicking Create New Budget.
If you choose to create a new budget, the Create Budget page appears in a new window. When you have created and activated the new budget, you can return to the Scenario Modelling page and select it from the Select a Budget dialog.
For more information about creating a new budget, see Creating a budget
3.When you have selected the required budget, click OK.
The selected budget is added to the scenario model displayed in a Gantt chart.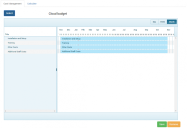 You can change the timescale displayed in the Gantt chart module by clicking the Day, Week, or Month buttons at the top right of the screen.
4.If required, you can now:
•Amend the duration of budget entries by clicking and resizing the Gantt chart entries in the Gantt chart
•Change Start Dates and End Dates for budget entries by clicking and dragging the entries
•Create dependencies by clicking and dragging the Start or End Point icon from one budget entry to the Start or End Point icon of another budget entry.

•Delete a budget entry by clicking the x icon that appears when hovering over a budget entry on the Gantt chart
•Edit the Title, Start and End dates, and the Complete percentage of a budget entry by double-clicking its entry to display a dialog
5.When you have completed editing the budget, click Save.
The Cost Components Import Overview dialog appears, and you are prompted to accept the cost components that will be included (and excluded) in the scenario.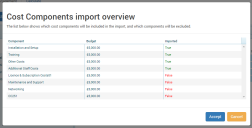 6.Click Accept to accept the Cost Components Import Overview, or click Cancel to return to the Schedule stage to edit the budget further.
Click Remove to remove the budget from the scenario model and lose any changes you made.
Calculate tab
Using the Calculate tab, you can apply a simple split of costs over the scenario time frame established in the General stage.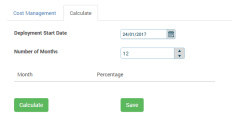 When you have specified the duration and clicked Calculate, License Optimizer refreshes the Calculate tab to display the number of months specified with a percentage for each. You can amend these percentages as required.
When the percentages have been set as you require, click Save.
Next
The next stage in the process is Creating a new scenario model: Steps stage.