Budgets Configuration
You create, edit, and delete the budgets that you use in scenario modelling by clicking Budgets Configuration under Configuration on the menu bar to display the Budgets Configuration page.
For more information on Scenario Modelling, see Scenario Modelling.
For information about creating a budget, see Creating a budget.
For information about the Budget Details page, see Budget Details page.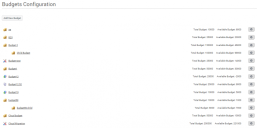 The Budgets Configuration page lists existing budgets with child budgets as a sub-entry to their associated parent budget.
Each entry in the Budgets List contains the following information:
Budget Type
The Budget Type is indicated by the icon to the left of the entry:

– Company

– Project

– Service

– Business Unit
Budget Name
The name of the budget appears as a link. Click the link to edit a budget.
Total Budget
The total amount of money allocated to the budget.
Available Budget
The remaining money available from the total budget allocated.
In-line gears menu
From the in-line gears menu, you can delete budgets or create child budgets.
To create a child budget:
1.Click New Budget from the associated in-line gears menu.
The Create Budget window appears.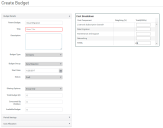 The Parent Budget field is automatically completed with the budget that you selected.
2.Complete the fields on the Create Budget page as required with the following exceptions:
Budget Group – this is pre-set to match the Budget Group setting of the parent budget. (This also means that you cannot change the Cost Components in the Cost Breakdown pane).
Total Budget – child budgets inherit their budget from their parent budget, so you can allocate a total budget only up to the value of the available budget in the parent budget.
To delete a budget, click Delete from the associated in-line gears menu. You cannot delete a budget that has its Status set to Draft or Active.