Creating a new scenario model: Outcomes stage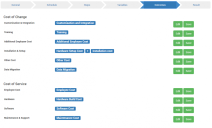 Outcomes are used to configure the calculations that the system applies in order to show scenario results. By default, it is configured to show:
Cost to Service Upfront
Costs of Service Recurring
Cost of Change
Compliance
License Cost
Shortfall
Surplus
Cost Analysis
Asset Value
Potential Savings/Costs over 12 months
Budget vs Scenario calculated costs
The Outcomes stage of the Create New Scenario Model process enables you to edit the formula for calculating Cost Of Change values and Cost Of Service values. Typically, you do not need to change this section.
Click Edit alongside a cost to display the Edit Outcomes dialog.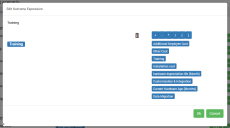 Use the mathematical symbols and costs displayed to create a formula, which you can use to calculate the selected cost, then click OK.
If you change a cost formula, you must click Save alongside the edited cost before leaving the Outcomes stage, otherwise they will be discarded.
Next
The next stage in the process is Creating a new scenario model: Result stage.