Data Summary page: License Movements tab
The License Movements tab on the Data Summary page contains a data grid detailing license movements (downgrades, upgrades, or transfers).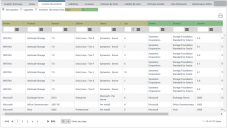 You can view data for only one type of license movement at a time. Click the Downgrades, Upgrades, or Transfers option button at the top of the License Movements tab to switch between the different types.
The License Movements key at the top of the tab indicates the direction of the license movement:

Example
The table beneath the example below explains how to interpret the data grid.

You determine that
indicated by
five VERITAS InfoScale Storage 7.0 Unix/Linux – Tier B product licenses with a Symantec – Server license metric...
the

Product

,

Metric

, and

Qty

listed in the

From

columns with the

olive color shading

have been downgraded...
the

Downgrades

option button is selected
to cover five Symantec Corporation Storage Foundation Standard for Solaris 5.0 Tier 1B/B installs with a Symantec – Server metric
the

Product

,

Metric

, and

Qty

listed in the

To

columns indicated by the

green color shading
You can navigate, sort, and filter the data grid, and also export data from it using the data export options in the

menu for each column. For more information on data grids, see Viewing pages of data.