Location Management
Avalanche uses locations in order to organize devices, users, and settings. <![CDATA[ ]]>Locations are organized in the Location View, which can be accessed by clicking the Location View button:

Location View button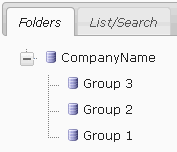 Folders tab of the Location View
When devices connect to Avalanche using the settings in your company barcode, they are assigned to your company. Within your company, you can create group locations in order to organize devices, users, and settings.
Avalanche uses selection criteria to determine which devices belong to each group location. For example, if Group 1 has the selection criterion: ModelName = ITCCK30, any Intermec CK30 devices that connect to the mobile device server automatically appear in the Group inventory. A device can belong to more than one group location concurrently.
Each user and profile has a home location. A user will be able to access items associated with his home location and any sub-locations. A profile will be available at its home location and inherited by any sub-locations. Profiles can be excluded from sub-locations so that they are not applied, however. When a profile is created, the home location is set by default to the location you currently have selected.
This section describes how to manage locations and provides information about the following topics:

© 2012 Wavelink Corporation. All Rights Reserved.