Creating a Server Group
Server groups make it easier to access specific types of servers.
To create a group:
1  From the Administrator, click Servers.
2  Click Groups.
The Manage Server Groups dialog box appears.
Manage Server Groups Dialog Box
3   Click Add.
The Adding a Group dialog box appears.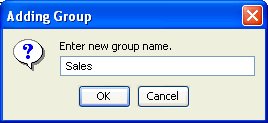 Adding Group Dialog Box
4  Type a name for the group in the Enter new group name text box.
5  Click OK to close the Adding a Group dialog box.
6  Click OK.
You can now add servers to the new group. For more information on adding servers to groups, see Adding Servers.
---
Inaccurate
Incomplete
Not what I expected
Other