About Portal Knowledge
CSM consolidates multiple knowledge sources into a single, powerful knowledge base so that users can find relevant information quickly without the use of additional resources.
Depending on the configuration of your system, customers might also have access to knowledge through the Portal so that they can independently solve issues.
CSM Knowledge can come from many different knowledge sources, including:
Knowledge Articles (KAs):

CSM

Business Object dedicated to knowledge. Use to share identified solutions with users and customers. Note that KAs can also be imported from third-party knowledge providers.
Business Object records: Closed Incidents or Problems (Known Errors), or any other appropriate Business Objects.
Attachments: Imported internal or external documentation.
Web: Adobe®, Google®, Microsoft TechNet®, Twitter®, Yahoo!®, and YouTube®.
By default, only members of the Portal Workgroup Manager Security Group can create Knowledge Articles in the Portal.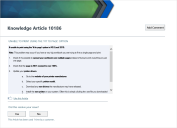 In the Portal, customers can search for Knowledge Articles using a Portal site's configured search control or using the Knowledge Article dashboard. When on a KA in the Portal, customers can vote on article popularity by selecting the Like this Article link, note whether or not it resolved their issue by selecting Yes or No, and add feedback by selecting the Add Comment link.