IT Knowledge Manager Dashboard
CSM provides an IT Knowledge Manager dashboard to help manage the Knowledge Article (KA) workflow.
By default, the IT Knowledge Manager dashboard is available to members of the Knowledge teams to help them manage the KA workflow. This dashboard is in the Dashboard Manager in the Global > Knowledge Management folder as Knowledge IT.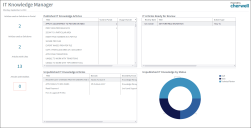 The following table describes the items on the dashboard.
Widget Display Name
Description
Widget Type
Widget Name
Widget Uses:
Articles used as Solutions in Portal
Number of KAs used as solutions on the

CSM Portal

(Status = Published).
Text Gauge
Articles used as solutions in

CSM Portal

Custom Query:

Knowledge Articles where all of the following are true:

Knowledge Article status equals Published

and Knowledge Article. Knowledge Portal Usage Count is greater than 0

Articles used as Solutions
Number of KAs used as solutions (Status = Published).
Text Gauge
Articles used as solutions
Custom Query:

Knowledge Articles where all of the following are true:

Knowledge Article.Status equals Published

and Knowledge Article.Knowledge Usage Count is greater than 0

Articles with Likes
Number of KAs with one or more Likes (Status = Published).
Text Gauge
IT Articles With Likes
Custom Query:

Knowledge Articles where all of the following are true:

Knowledge Article.Status equals Published

and Knowledge Article.Like Count is greater than 0

Articles with Dislikes
Number of KAs with one or more Dislikes (Status = Published).
Text Gauge
IT Articles With Dislikes
Custom Query:

Knowledge Articles where all of the following are true:

Knowledge Article.Status equals Published

and Knowledge Article.Dislike Count is greater than 0

Published IT Knowledge Articles
List of published KAs in descending order using the Knowledge Manager grid (Status = Published).
Search Results List
Published IT Articles
Stored Query: Published Articles

Knowledge Articles where all of the following are true:

Knowledge Article.Status equals Published

Unpublished IT Knowledge Articles
List of unpublished KAs in descending order using the Knowledge dashboard grid.
Search Results List
Unpublished IT Articles
Stored Query: Unpublished IT Articles

Knowledge Articles where all of the following are true:

Knowledge Article.Status is not equal to Published

and Knowledge Article.Status is not equal to Retired

and Knowledge Article.Status is not equal to Rejected

IT Articles Ready for Review
List of published KAs in descending order using the Knowledge for Review grid with a review date less than or equal to two weeks from current day (Status = Published).
Search Results List
IT Articles Ready for Review
Custom Query:

Knowledge Articles where all of the following are true:

Knowledge Article Status equals Published

and Knowledge Article review date is less than or equal to Two weeks from Today expression

Unpublished IT Knowledge By Status
Doughnut chart of the number of unpublished KAs displayed by color with size of slices based on the number of records per status that DOES NOT equal Published, Retired, or Rejected.
Chart
Unpublished IT Knowledge by Status
Stored Query: Unpublished IT Articles

Knowledge Articles where all of the following are true:

Knowledge Article.Status is not equal to Published

and Knowledge Article.Status is not equal to Retired

and Knowledge Article.Status is not equal to Rejected